Roof Repair, Replacement and New Roof Installations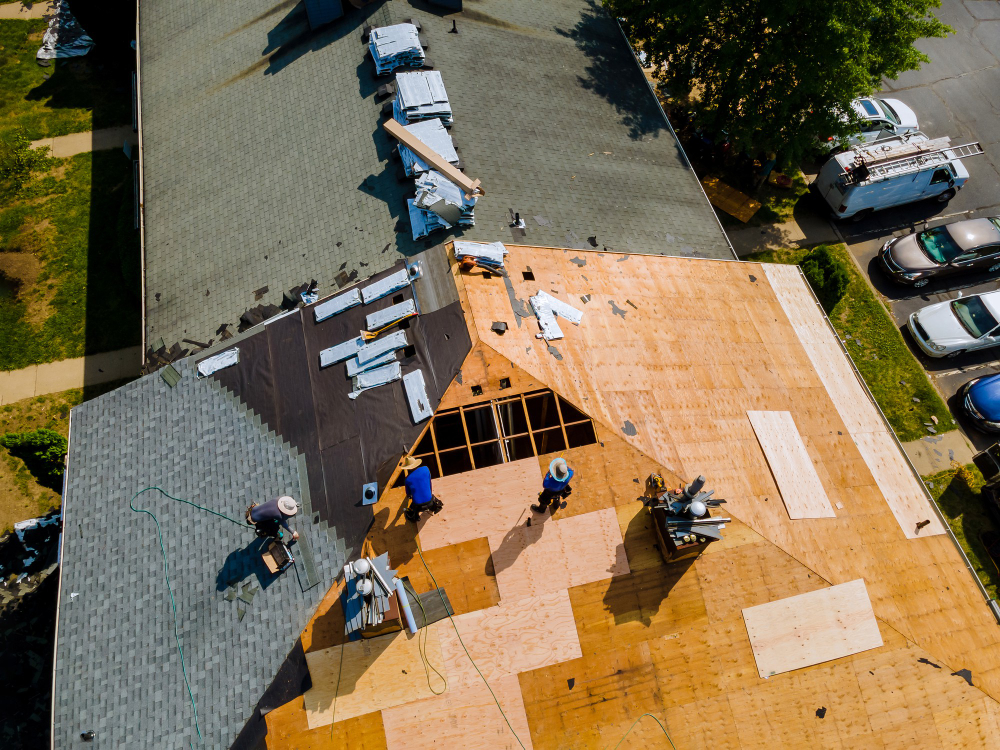 Your roof is an essential part of your home's structure and must be in good condition to protect you from the harsh weather conditions in Winter Park or Orlando, Fl. Whether you need a new roof installation, repair, or replacement service, you need an experienced roofing contractor to get the job done. At The Orlando Roofing Company, we are your licensed roofing contractors in Winter Park, providing quality roof repair, replacement, and installation services that meet your budget and roofing style preferences.
Roof Repairs Near You
If your roof has some damages, it requires immediate repair to prevent water from leaking into your home and damaging your property. Our roof repair services entail identifying the damaged areas, removing the damaged material, and replacing it with new, long-lasting materials. We repair all types of roofs, including shingle, tile, metal, flat, and slate roofs. Contact us if you notice leaks, stains on your ceiling, or signs of water damage on your exterior walls.
Roof Replacement
If your roof is old, severely damaged, or in need of a significant overhaul, our roofing contractors will suggest a complete roof replacement. Some of the common symptoms that may indicate the need for a roof replacement include a sagging roof, severe leaks, mold or mildew growth on your ceiling, and decaying shingles or tiles. Our team will work with you to choose the best roofing materials that meet your budget, style preferences, and the Winter Park or Orlando weather conditions.
New Roof Installations
As a roofing company in Winter Park, we understand that installing a new roof is a significant investment. That's why we offer high-quality roof installation services that guarantee long-lasting durability, functionality, and beauty for your home. We work with all types of roofing materials, including asphalt shingles, tiles, metal roofs, flat roofs, and slate roofs, among others. Our team will help you choose the best roofing material that balances your budget, style, and long-term value.
Asphalt Shingles: Asphalt shingles are the most popular roofing materials used in Winter Park. They are affordable, easy to install, and provide excellent protection against wind and rain. They come in a variety of colors and styles, which makes them an ideal choice for homeowners who want a budget-friendly but visually appealing rooftop.
Metal Roofs: Metal roofs are another popular option in Winter Park due to their durability, energy efficiency, and eco-friendliness. They are resistant to extreme weather conditions and can last up to 50 years. Although metal roofs are relatively expensive than other roof types, their long lifespan and high durability make them a worthy investment.
Tile Roofs: Tile roofs are known for their unique style and elegance. They come in a variety of colors and styles and are resistant to weather, wind, and fire. Tiles are made of materials such as concrete, clay, and slate, which make them ideal for the Florida climate. However, tile roofs are quite heavy, and may not be suitable for all homes.
Flat Roofs: Flat roofs are commonly used in commercial buildings, but they are equally efficient when used in residential properties. These roofs are cost-effective and straightforward to maintain. They provide insulation and protect against weather elements.
Wood Shake Roofs: Wooden shingle roofs are popular for their rustic appearance and elegant design. They provide excellent insulation and reduce noise levels. However, they require consistent maintenance and are susceptible to fire, insects, and rot.
Best Roofs for Winter Park Orlando Weather
If you're looking for a new roofing installation that can withstand the unique weather conditions in Winter Park or Orlando, your options are limitless. However, some of the best roofing materials you can choose for your home include asphalt shingles, metal roofs, and tiles. Asphalt shingles are affordable and come in a variety of colors and designs, making them a popular choice for homeowners. Metal roofs are durable, energy-efficient, and perfect for homes in warm climates. On the other hand, tile roofs deliver unmatched beauty, longevity, and low maintenance requirements.
What time of year is best to buy a roof?
If you're considering buying a new roof for your home in Winter Park, Florida, you may be wondering what time of year is best to make the purchase. While there is no one-size-fits-all answer to this question, there are a few factors that may influence your decision. For example, if you're looking to save money on your roofing project, you may want to avoid the peak season for roofing companies in Winter Park. On the other hand, if you're looking to get your roof installed as soon as possible, you may want to schedule the project during the least busy time of year. Ultimately, the best time to buy a new roof depends on your individual needs and priorities.
How long should a new roof last?
When it comes to residential roofing in Winter Park, FL, many homeowners wonder how long a new roof should last. The answer can vary depending on factors such as the quality of materials used, the roofing system installed, and weather conditions in the area. However, a well-maintained roof can typically last anywhere from 20 to 30 years. It's important to have your roof inspected regularly by a qualified professional from the Orlando Roofing Company to ensure it stays in the best condition possible. Regular maintenance can help extend the lifespan of your roof and prevent any costly repairs in the future.
Commercial Roofing Services
Are you in search of reliable and professional commercial roofing services in the Winter Park area? Look no further than The Orlando Roofing Company. Our team of experienced roofing contractors specialize in providing expert roofing solutions for any commercial project, from large warehouses to retail storefronts and everything in between. We understand that every business is unique and requires customized roofing solutions, which is why we work closely with our clients to ensure we deliver exactly what they need. Trust us to keep your commercial property safe and secure with our exceptional commercial roofing services in Winter Park. Contact us today to learn more about our services and schedule a consultation.
Residential Roofing Services
Our team of roofing experts is dedicated to ensuring that your home roofing project is completed to your satisfaction. Whether you need roofing installation, repair or a new roof, we've got you covered. We know that your Central Florida home is precious, and that's why we use only high-quality materials that meet industry standards. What's more, we offer roof inspections to ensure that your roof is in top condition. Our goal is to provide you with exceptional service that exceeds your expectations. At The Orlando Roofing Company, your satisfaction is our top priority. Contact us today to schedule your roofing project!
Call us Today!
At The Orlando Roofing Company, we have the skilled roofers, expertise, and attention to detail necessary to deliver quality roofing services that exceed your roof needs and expectations. Whether you need a roof repair, inspection, replacement, or installation, we'll help you choose the best roofing material and design that matches your budget, style, and geographical environment. Contact us today for a free roof assessment and get started on your roofing project.